COVID-19: European Traffic Observatory, Europe
In partnership with HERE Technologies, Citec Digital analyzes road traffic data in 3 European countries before, during and after lockdown. To closely follow the evolution of traffic in connection with COVID-19 measures, the European Traffic Observatory analyzes data from structuring axes in more than ten cities in Switzerland (Geneva, Lausanne, Neuchâtel, Sierre), France (Lyon, Nice, Paris, Toulouse), and Italy (Bardonecchia, Milan, Turin). These data are updated weekly and accessible on the Observatory's website.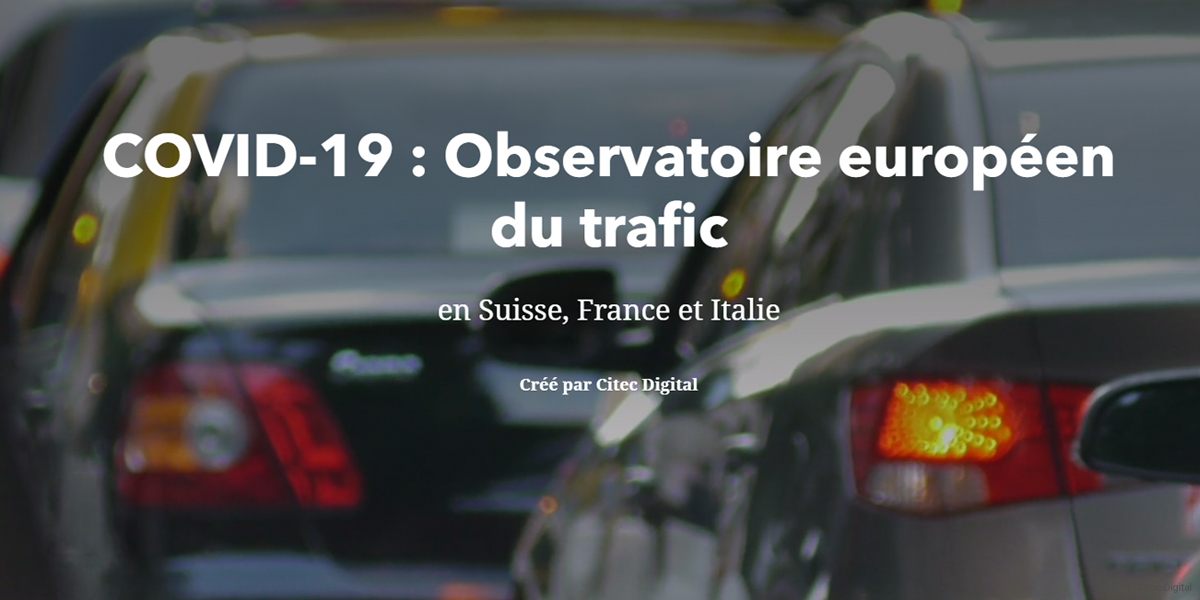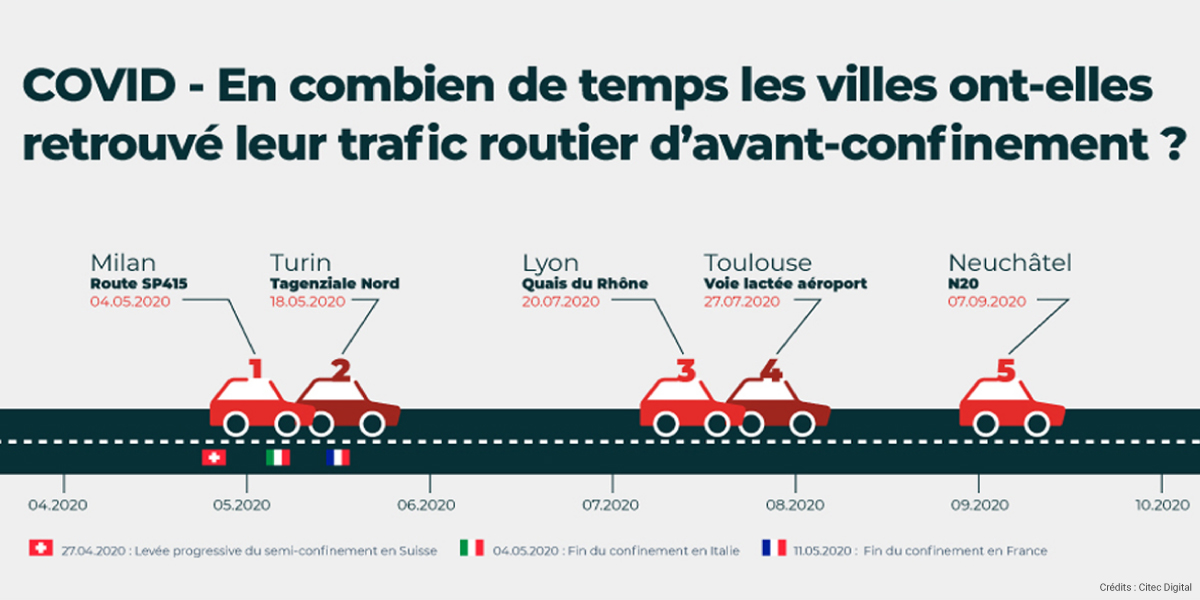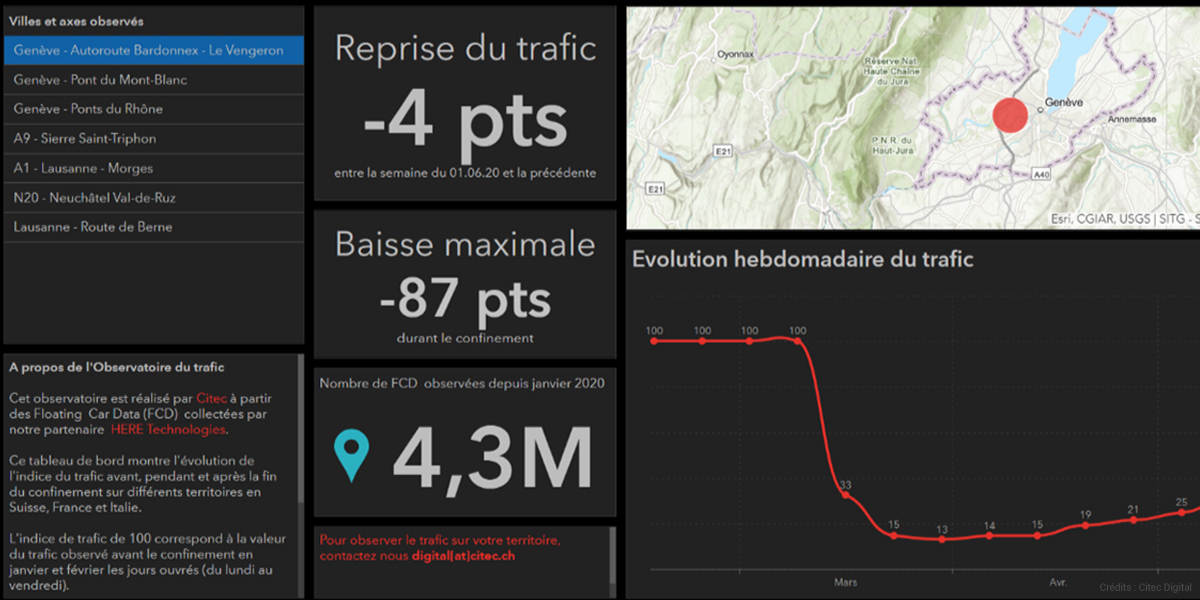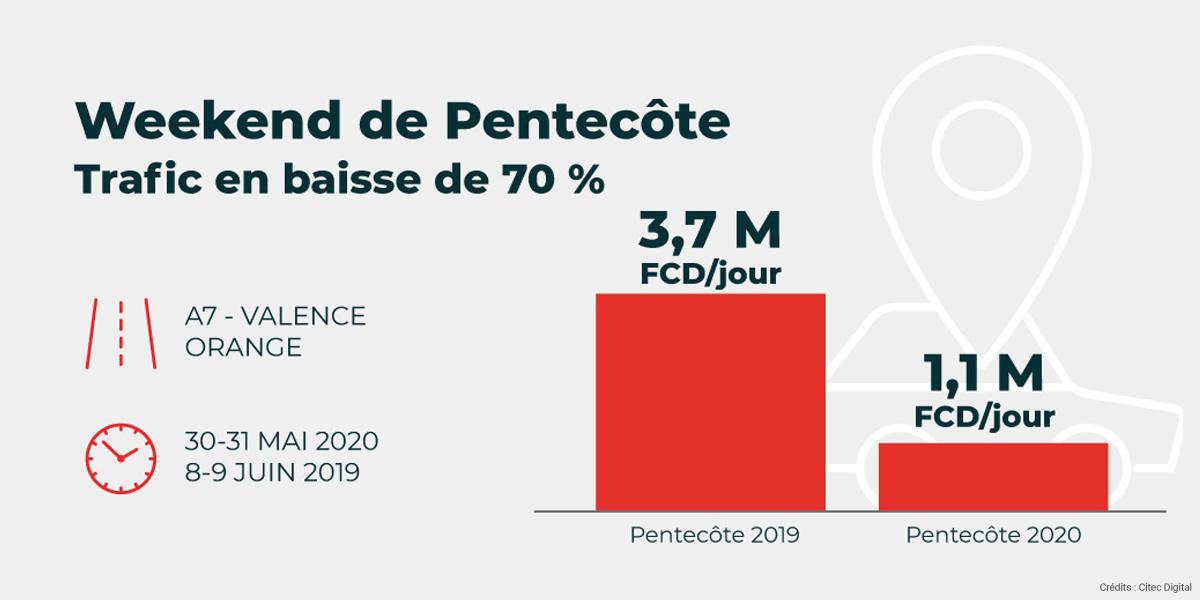 Project characteristics
3 European countries observed before, during and after lockdown
More than 20 structuring axes and fast lanes analyzed every week
More than 600 million traces exploited, from Floating Car Data (FCD) of the HERE Technologies traffic platform
Role of Citec
In partnership with HERE Technologies:
Graphic design, editorial and web platform of the Observatory carried out with StoryMaps and Operation Dashboard of ArcGIS Online
Design of geographic data repositories (observation axes from HERE NavStreets road data) and temporal data representing the evolution of road traffic
Development of automatic processes for processing HERE Technologies FCDs: collection, aggregation of data, calculation of decision support indicators (change in traffic volume compared to 2019 for the same period, evolution with week S-1 , etc.)
Weekly publication of traffic trends in the observation areas
Production of static infographics and videos for dissemination on social networks of the main lessons of the past week

Tell us about your projects
Would you like to receive advice on a mobility project?
Our experts are at your service.
Contact us