Large Events: from Application to D-Day
MILANO — On Tuesday 11th of February, Citec hold the conference "Mega Event's mobility: from Bid to Operations" and shared its expertise in mobility during major events with the EPFL alumni network.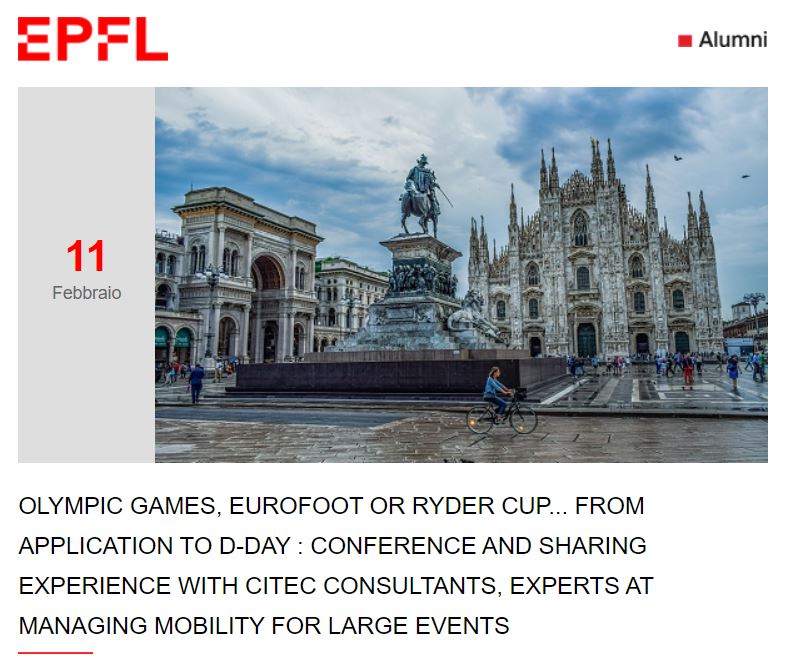 Olympic Games, Ryder Cup or Eurofoot: have you ever wondered how those large events are developed from candidate application to D-day? And how their massive flows of people are managed? On Tuesday, the 11th of February, Stefano Manelli, Director of Citec Torino, and Head of Mega Events Department, directed a conference on the topic of large events' management in front of EPFL Alumni in Milano.
Mobility Planing: Citec shares its experience in Large Events
Stefano has been working on transport planning and operations for Large Events for more than 10 years and had a wide range of activities in that field.  He acted as an expert on around 30 major international events (Olympic Games 2014, 2018, 2020, UEFA 2012,2016, 2020, Ryder Cup 2018 and 2022, FIFA World Cup 2018, Annecy 2018 bid, Paris 2024 bid, Milano-Cortina 2026 bid, etc.). Thanks to these international references, he is a recognized as an international expert and regularly invited for conferences or training courses to present good practices in the field of mobility management during major events.
More about this
Download Stefano Manelli Biography
Citec — UITP Training : Citec shares its experience in Large Events
Citec — FIFA Women's World Cup: Citec takes part in a mobility workshop